Collection Management Software
The Artedian and Collection Presenter (formerly Web Artedian)
The Artedian is an MS-Access20xx application for managing ichthyological collections, in use at the Swedish Museum of Natural History. A stable beta version is used for the NRM Ichthyology collection, and a stable pre-final version may be downloaded here (compiled) or requested from the author.
For further information, please contact Sven O Kullander.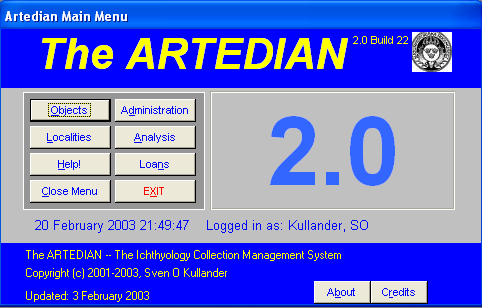 The Main Menu of a beta version of The Artedian
Version 2.0 is available in compiled state. Download 2.1 build 5 (posted 25 August 2006, as a zip file, unzip it and follow the instructions in the README.TXT file to get started. Depending on your particular computer configuration the compiled file may work more or less well. You may also request the source version from Sven O Kullander. This is the fourth Access20xx version. Last Access97 version was 1.0 build 7.
Collection Presenter (formerly Web Artedian) is an online presentation system for Artedian. Web Artedian is available for download: version 0.6 beta 2. From version 07beta17a Web Artedian changed name to Collection Presenter. See Collection Presenter in action: NRM Ichthyology collection
Minimum system requirements (The Artedian):
OS: Microsoft Windows 98 or newer (tested to work with Microsoft Windows 11)
Database: Microsoft Access2000
Hardware: 32MB RAM, 25MB free HD space
The product is offered as is, and at the risk of the user alone. Neither code contributors, beta testers, the author, or the Swedish Museum of Natural History can be held responsible for any effects on any subjects or objects, real or virtual, following use of the Artedian or the Web Artedian, whether modified or unmodified. Uploaded files are virus-free, but it cannot be guaranteed that downloaded files or files obtained from secondary distributions are free from harmful content. The current version assumes that you have legally obtained and licensed software from Microsoft.